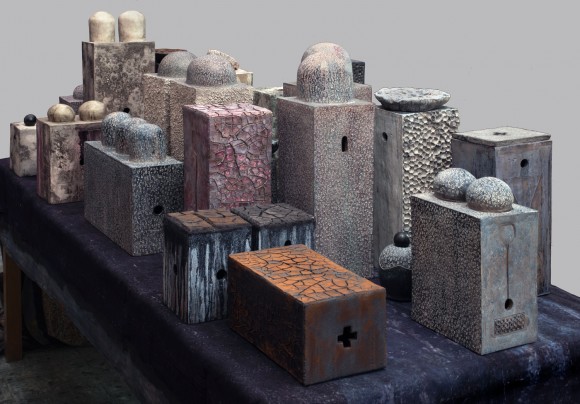 'Partitions' – Via Energetica , 2013
Art installation with ceramic objects
"Put a spade in the ground and take out a part of mother earth. Look closely and see that the matter you have collected contains all that is needed to create anything you can imagine". 
Like the lotus that grows to heaven from mud or a Lingam showing power and potent fertility, this 'partition town' – made from earth – exists somewhere between Nadir and Zenith. It visualizes the 'Via Energetica' – "All is changing shape continuously".
The up to 75 individual pieces are ordered depending on available space and light conditions. All pieces are made from traditional Indian terra-cotta and finished by hand using different kind of materials, like mud, shellac, iron & marble powder, steel balls, natural indigo, acrylics etc…
Above picture is an 'in studio' installation, it shows about 40% of the individual partitions.
For a news article about 'the making of', click here